Customer Overview
The Customer overview screen can be found by clicking Sales/Hire on the Main menu, after you've selected a customer it becomes the central overview of every record related to them and is also the first screen to visit in many situations.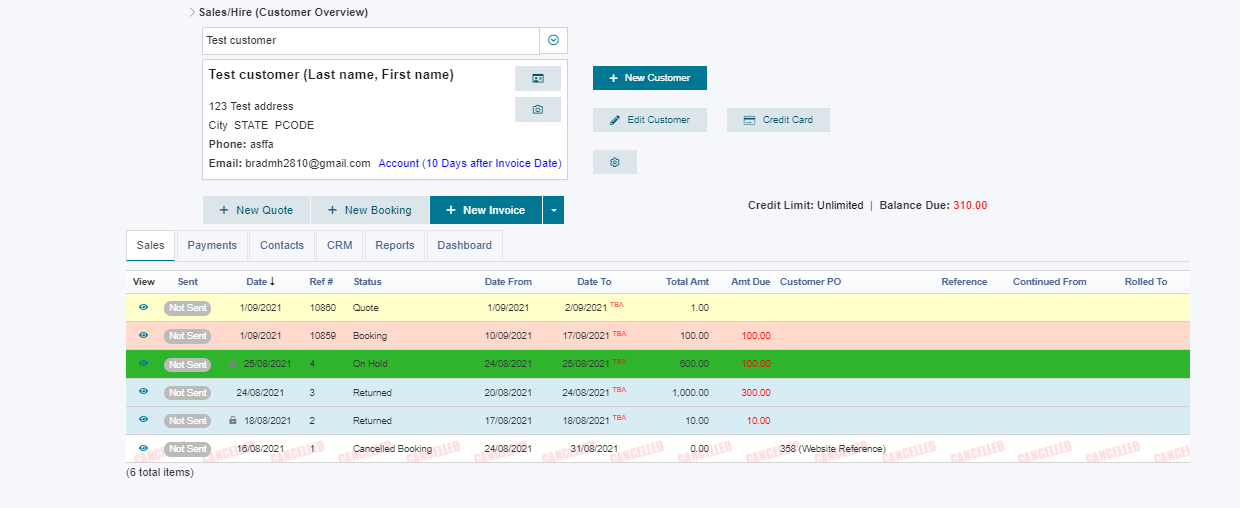 Creating a Quote/Booking/Invoice
This screen is one of the main ways of creating a new Sales Record.
You can do so, by clicking the New Quote, New Booking, Or New Invoice options.
Sales Tab
This tab will show all of the customer's previous Sales Records ordered by Invoice/Quote/Booking date. This is the main tab you'll be using to see a customer's history with you.
Payments Tab
This tab will show all previous payment entries with the customer.
Contacts Tab
This tab will show all customer contacts related to them.
CRM Tab
The CRM tab is where you can easily generate CRM records if you have a conversation with a customer.
This means, if you use the CRM module you should be able to check this tab to see a history of customer correspondence, even with other staff members.
There is a few different buttons depending on the type of record you want to create.
Reports Tab
This tab is where you can preview a customer's Statements as well as a currently on hire report, and a price list specific to the customer, if you've given the customer specific item discounts.
Credit Card Button
If you use Pin Payments, this button will let you save a customer's card details directly to your Pin Payments account.
Otherwise, it will be saved to HirePOS.
If you save credit card details to HirePOS, remember to click the Destroy button when it's no longer needed.
---
---