Invoice Category
The purpose of Invoice Categories is to allow you to group invoices for sales reporting purposes.  This feature is commonly used for event hire, where by invoices are categorised as weddings, corporate events, private parties, etc.  The Sales by Invoice Category reports enable you to monitor how various areas of your business are performing.
Invoice categories can also be used to filter results on the Sales > EOM Rollover screen, filter emails to be sent in bulk on the Sales > Email/Review Invoices screen, control which invoices are sent to Xero, and in many other useful and creative ways.
Activate Invoice Categories
Navigate to Setup > Preferences > Restrictions
Open the Other Fields Required section and check the 'Invoice category required for invoices' checkbox option, then click Save Changes.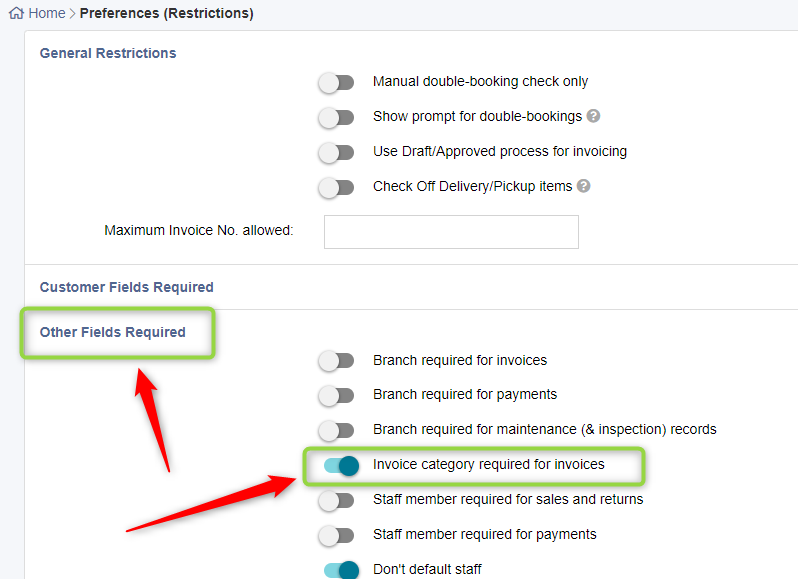 How to add an Invoice Category
From the main menu strip at the top, go to Setup > Invoice Categories.
Click the 'New Invoice Category' button to add a new category.
Enter a name for the category, then click Save New.
Using Invoice Categories
On the invoice page an "Invoice Category" dropdown will appear below the customer details section to allow you to select a category.  You cannot create a sales record of any type without selecting a category.
Invoice category filters are available on many of the search and report pages throughout the app. You can use this filter to limit the results shown by the invoice categories you have defined.
If you use the
Xero Exporter
, you may also add a
Xero Code
to an invoice category. this will override all other methods.
---
---