Cost/Profit
The cost/profit function allows you to record and calculate mark-ups on an invoice line by line basis, returning a GPP (Gross Profit Percentage) margin for the invoice.  Cost/Profit reports can be generated which detail, group and summarise the cost/profit figures over a given date range.
Important Note: For 'Sales' items, if no cost is entered against the Invoice Line, then the Cost/Profit reports will fall back to the Cost Price as entered in the Item setup > Purchase/Disposal tab.
Entering Costs on a Line by Line Basis
From the Invoice edit page, choose the Extras dropdown menu at the top right, then Cost/Profit Calculator.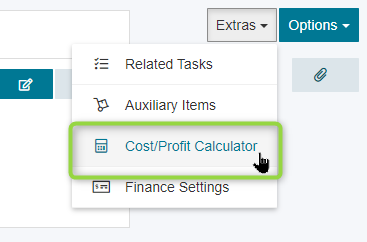 The Cost/Profit page lists a copy of the invoice item lines, with a Cost, Revenue, Mark-up percentage and Profit column.  Make adjustments to the Cost prices as necessary.  For sales items you can click the Use Current Costs button to retrieve the current costs for the items as a starting point, then make adjustments from there as required. 

Total Cost, Revenue, Profit, and GPP for the Invoice are shown at the bottom.  Click Save Changes when completed.
Landed Cost vs Cost Price
When setting up a sales item in HirePOS, you have the option to define both a Cost Price and a Landed Cost (if required).
On the cost profit screen, the Use Current Costs button will first look for a Landed Cost for the Item. If there is no Landed Cost, the Cost Price will be used (if present)
Reports
Various reports are available via Reports > Cost/Profit.  The Cost/Profit by Date report includes Quotes to allow you to analyse potential profit margins on quotes as well.  Quotes should be either 'cancelled' or converted to a booking/invoice after the quote date, thus reporting cost/profit by date will give accurate figures when reporting on past dates.  There are also reports available displaying Gross Profit Margins for sales related items. Note: Sales item costs are picked up automatically from the 'Purchase/Disposal' tab in the Item setup if no specific costs have been entered in the Cost/Profit Calculator.
---
---