External Files and Attachments for Online Store Items
The HirePOS Online Store allows you to upload high quality images, add custom text, prices, and more.
In some cases, it is desirable to also give your customers the ability to access additional files or documents relating to your items. This might be operational history, user manuals, safety documentation, or even a link to a video of the item in action.
The best way to achieve this is to host the item on your website, cloud drive, or similar, and add a hyperlink to the item listing on the HirePOS Online Store. (Links to resources on some of these option available at the end of this document)
Adding a Hyperlink to the Online Store
Just like Email Templates, you can simply add a link to an external resource right from your customer facing online store item page.
Navigate to Setup > Preferences > Online Store > Setup Store Items > (Item)
In the Long Description field, we are going to add a hyperlink to your resource

Select Insert from the text editor menu
Select Link
Fill out both the URL (the address where the file is stored) and the Text To Display (What you want the customer to see)

Get Fancy
If desired, you could create a special section for these links, that you can copy and paste between your items, and just update the links. The editor gives you options to create headings, tables, and even use special fonts to help you with this.

When happy, save and view the result on your client facing page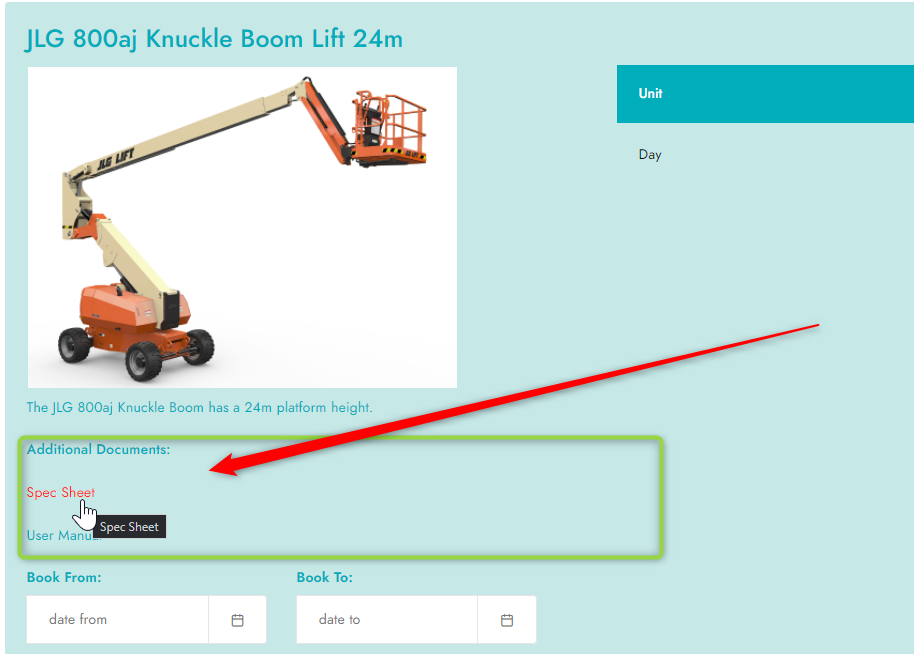 Choosing a File Hosting Option
On your website
Where possible, we tend to recommend hosting your files in a folder on your website. This way you retain full control, and there are usually no access or permission settings to consider.
If you have built your website yourself, you probably know how to store some files on there. If you had it built for you, you may be able to send the files you need hosted to your web developer to put up, and they can send you some links back.
These files do not need to be easily accessible via your customer facing website, they just need to be stored in the background so you can link to them when needed.
Cloud Storage Services
Most cloud storage services give you the option to make a file publicly accessible, with a nice short URL.
Here is some documents on how to do this with some popular cloud storage services:
Google Drive
https://support.google.com/drive/answer/2494822?co=GENIE.Platform%3DDesktop&hl=en
Microsoft OneDrive
https://support.microsoft.com/en-us/office/share-onedrive-files-and-folders-9fcc2f7d-de0c-4cec-93b0-a82024800c07
Dropbox
https://www.dropbox.com/features/share
Youtube
You can even link to a video of your item in action!
Here is some more information on creating a public link to a Youtube video:
https://support.google.com/youtube/answer/57741?co=GENIE.Platform%3DDesktop&hl=en
---
---