Inserting an Image or File link into Email templates
If you wish to add images or file links to your email templates, you must first host the image on the internet. You can then add a link to the image when creating your email template.
Hosting your Image on the Internet
On your Website
In the case of company logos, often you will already have your logo available on your website. To get a link to an image on your website, you can often right click the image and select Copy image address.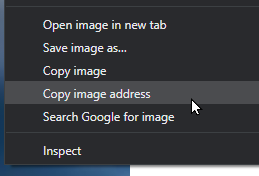 Alternatively, you might be able to ask your IT person or webmaster for a URL to your image.
Cloud Storage
If you are unable to store your image on your website (or do not have a website), you can store an image on a could storage service like Google Drive, Microsoft Onedrive, Dropbox, or similar, and create a direct link to the image (make sure the file is set to allow public access).
See the following external article for a guide on how to get a direct link to an image on these services: https://www.mail-signatures.com/articles/direct-link-to-hosted-image/
Inserting Image Link into your Email Template
Go to Setup > Preferences > Email Templates/Settings
Click the Insert dropdown in the template editor.
Click Image, then Paste your URL into the Source field.
Resize the image as desired.
---
---